When:
2019-04-24T00:00:00-04:00
2019-04-25T00:00:00-04:00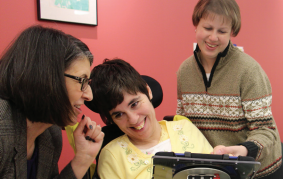 Worcester, April 24th, 2019. Free. Every person deserves to live with as much independence and confidence as possible. Learn more about assistive technology, meet companies and organizations from around Massachusetts and explore a world of possibilities at the 3rd Annual Assistive Technology (AT) Expo.
* This year, guests will also be given the opportunity to make their own assistive technology device at the Expo for personal use.
* Individuals with disabilities, families and friends, and professional staff will find a community-wide activity that promotes interactive learning.
* Vendors will provide opportunities to work hands on with the products and services they offer. Find:
Assistive Technology on Display
Network: Come talk with professionals and families that use AT every day.
In-Depth Demonstrations
Hands-On Activities
Do-It-Yourself Low-Tech Tools
Raffle Prizes
Previous Expo Exhibitors have included::
Apple
SHF Superusers
Microsoft
Perkins Library
Easter Seals MA
Tobii Dynavox
MassMATCH and more!RSVP to www.sevenhills.org/at-expo-2019 or contact Jean DesRoches at jdesroches@sevenhills.org