When:
2020-08-19T00:00:00-04:00
2020-08-20T00:00:00-04:00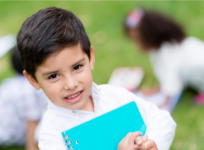 Webinar, August 19th, 2020 3:00 PM, with a Massachusetts' based Occupational Therapist. For many students, this spring's experience of remote learning and receiving integrated services was fraught with challenges. As children and their parents begin to think about returning to school this fall, either in a remote capacity or in person, there is likely some confusion regarding assessment, service delivery moving forward and potential regression.
* What new occupational therapy needs may have arisen due to time out of the classroom?
*  How can a school district support a child's digital literacy and executive function needs?
*  Should virtual conferencing platforms be used to deliver services to students?
Hear Occupational Therapist Sophie Bellenis shed some light on:
the important questions to ask your team
the best ways to gather information regarding your child's readiness to return to school
new skills that students may need to work on as a result of the COVID-19 pandemic.
Fees apply, registration is required to https://nesca-newton.zoom.us/webinar/register/WN_Mg4b8MT9TPaXpvD6EM6nIA  or contact jhauser@nesca-newton.com, 617.517.9862