When:
September 13, 2017
all-day
2017-09-13T00:00:00-04:00
2017-09-14T00:00:00-04:00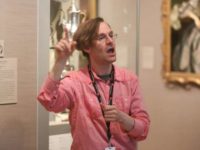 Boston, September 13th, 2017. A celebration of Deaf culture that welcomes members of the Deaf community and friends. The evening highlights and features the art, language, and culture of the community. Coinciding with Deaf Awareness Month, the program includes American Sign Language tours and spotlight talks, performances, art-making activities, and more.
Presented in partnership with DEAF, Inc and Boston Children's Hospital Deaf and Hard of Hearing Program.
* All of the evening's special events, talks, and tours are in ASL led by Deaf tour guides, artists, and performers and are translated into spoken English.
* ASL with spoken English translation
* Art Making: Painting 4–6 pm, Education Classroom in Druker Family Pavilion, Room 160
* Steve the Magician 5–5:45 pm, Riley Seminar Room, 156 Limited availability: first come, first served.
* Art-Inspired Performance 7 and 8 pm, Meet at Sharf Visitor Center
* Artist Showcase and Meet-Up 7–9:30 pm, Education Classroom in Druker Family Pavilion, Room 159
Tours and Talks
* Spotlight Talks 5, 5:30, 6 pm, Gallery 138
* Highlight Tour 7:30–8 pm, Meet at Sharf Visitor Center
* Information Tables 4–10 pm, Sharf Visitor Center
Additional Resources and Activities
* Drawing in the Galleries  – 6–9 pm, Gallery 251
* Artist Toolbox Cart – 5:30–8:30 pm, Gallery 233
* ASL interpretation – 5:30-6:30 pm
Assistive Listening Devices (ALD)is available for gallery tours and talks from the Sharf Visitor Center. Headsets and neckloops are available. For visitors with hearing aids with a T-coil switch, there are induction loops at all entrances, the Box Office, and the Information desk at Sharf Visitor Center.
For more information visit  www.mfa.org/programs/special-event/asl-night  or contact 617-267-9300
Accessibility – contact access@mfa.org, or call 617-267-9300 or 617-369-3188 (TTY).
* Wheelchairs and walkers are available at all entrances, first come, first served.