When:
December 20, 2019
all-day
2019-12-20T00:00:00-05:00
2019-12-21T00:00:00-05:00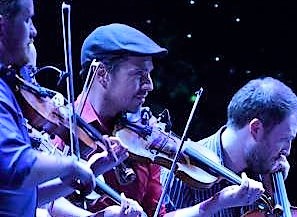 Boston, MA, December 20th, 2019. A Christmas Celtic Sojourn with Brian O'Donovan will  offer a sensory-friendly performance for individuals with sensory input disorders, autism spectrum disorder, anxiety, and for anyone else who may benefit. There will be modifications throughout the theatre to offer a friendly, non-judgmental and supportive environment.
*  Families, friends and caregivers for individuals with sensory-input disorders and community advocates are also encouraged to attend.
*  Enjoy songs, dances and poetry reflective of the Celtic Christmas spirit.  There will be several sing alongs of Christmas songs, choreographed Irish traditional dance using hard and soft shoes, and instruments including the Swedish Nyckelharpa,  plus traditional Celtic instruments such as fiddles, harp, guitar, drums, bass, banjo, piano, flute, and mandolin. Accommodations: 
Lower overall sound level, especially for startling or loud sounds.
House lights will remain illuminated at a low level throughout the performance.
Relaxed house rules: patrons may move, stand, make noise, talk, enter and exit the theatre as needed, eat*, and use personal sensory tools throughout the performance.
Designated Take a Break Area available before, during and after the performance.
Limited crowds and spaced out assigned seating.
Patrons may bring their own sensory tools, peanut-free snacks*, manipulatives, seat cushions, comfort objects, headsets, earplugs, communication devices and extra support items.
Trained theatre staff members and specialists will be available throughout the theatre to support patrons.
* Concessions not available for purchase this performance, however patrons are welcome to enjoy their own peanut-free snacks and non-alcoholic beverages during the performance.
* Pre-visit Resources :
Social Narrative- Describes the social setting, the physical space, and what to expect.
Program Guide- A breakdown of the performers' descriptions and roles.
Arrive Early to meet friendly staff and performers, see where you will be sitting, explore and adjust to the space.
Lyrics- Large font lyric sheets to sing along to the holiday songs.
To purchase tickets or for more information visit www.wgbh.org/event/a-christmas-celtic-sojourn-with-brian-odonovan-sensory-friendly-event  or contact the Cutler Theater 617-824-8400 or erinronderneves@gmail.com.
* Wheelchair accessible.  Please inform the Box Office at 617-824-8400 of any mobility issues before you visit.
* Additional accommodations: visit ArtsEmerson: Accessibilty Services or all the Box Office at 617-824-8400.