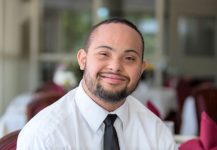 Webinars, May 5th, 2021. Hosted by the Massachusetts' Department of Developmental Disability Services, the Institute for Community Inclusion of Boston, and Work Without Limits at UMass. 
* For Educators, family members, DDS staff and providers.
* The same content will be covered in each session.
* The sessions are open to anyone engaged with transition aged youth including school personnel, family members, state agency personnel and providers.
* This training provides information related to the significant benefit changes that young adults with disabilities need to understand as they approach adulthood including them, including::
mandatory Supplemental Security Income (SSI) Age 18 redetermination process
how adult benefits differ from childhood-related benefits under both Social Security programs
SSI and Social Security Disability Insurance (SSDI)
how changes to public health insurance can occur
* There is a special emphasis on young adult-related programs and work incentives such as:

Section 301 (Continued Payment under a Vocational Rehabilitation Program or Similar Program)
the Student Earned Income Exclusion (SEIE) for individuals 21 and younger on SSI
how a PASS Plan can help young adults leverage financial resources to fund education that may give them a head start on their career goals.
* To register or the April event, visit https://communityinclusion.zoom.us/meeting/register/tJUvdO-srj4sGtNNoC7Owcr3KVKPsAaTY3Hr 
To register for the May event, visit https://communityinclusion.zoom.us/meeting/register/tJYqf–prToqE9LeBvowFqVPQhlLVr9Lhhln  OR for more information contact 617-287-4293 miwa.tanabe@umb.edu or Berenise.albino@umb.edu.