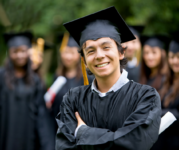 Webinar, April 27, 2021, with MassFamilies and the Arc of Greater-Haverhill/Newburyport, with the support of the DDS Northeast Region's Family Support providers. Free and open to the public.
* This workshop will address the transition planning and services required for youth with disabilities ages 14-22, including a focus on transition services during COVID-19. 
 * Hear about the transition special education services needed to prepare youth for employment, independent living, and further education, including guidance and strategies to address transition needs during the pandemic.
 * Through the use of case examples, parents and professionals will learn strategies that can help students receive important transition services mandated by special education laws, preparing youth to live, learn, and work in the community when they exit special education.
 * The workshop will also focus on the transition to the adult human service system process.
 * Gain an understanding of Chapter 688, the federal law that helps plan for youth with disabilities after they leave school, as well as transition to the adult human service system.
To register or for more information visit Register to https://zoom.us/…/tJIoceCoqTsuGNdMN-z_a27ftYd6I88bMgZa or contact (617) 357-8431, communications@massadvocates.org.