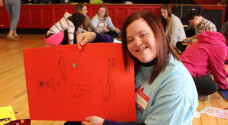 Virtual Series, March 7th, Winter & Spring 2021, with the Mass Down Syndrome Congress. The MDSC AIM groups is offering this Project Explore program for  teens ages 16-19. 
* March 7th – AIM Parent Lunch & Learn
* AIM invites parents and caregivers of transition age youth with Down syndrome, ages 13 to 22, to join in for the March session.
* Share resources, successes, and ideas.
* Please bring any questions or ideas around surviving and being creative during Covid, resources and tips around transition, employment and unstructured times.
* Please feel free to have your lunch while coming together for this networking session.
* Each Project Explore session will run for approximately 45 minutes.
AIM plans to end all of the Project Explore sessions with positive Affirmations, that you will receive after you register for the session.
March 7th AIM Youth Meetup LUAU Party (ages 13-22) – Sunday, March 7 | 1:15-2:15pm Register for Zoom session.
AIM welcomes teens and young adults with Down syndrome, ages 13 to 22, to join in for our March AIM Meetup on Zoom!.
* The LUAU PARTY will feature tropical bingo and other fun games. Maybe you'd like to set up a beach towel and throw on some sunglasses? 
Future 2021 DATES AND THEMES:
Exploration : Get Up and Dance with Project Explore – Sunday, March 20, 2:00. Learn a dance to a popular song and end with a dance party to your favorite tunes.
Exploration : Project Explore Member Choice – Sunday, April 18, 2:00
Base Camp : Reconnect with Project Explore – Sunday, May 16, 2:00
At our Base Camp Reconnect meet as a whole group and share Project Explore experiences. Share our highs, our lows, and what we want to explore in the future.
To register or for more information visit https://mdsc.zoom.us/meeting/register/tZUrcOitqTkrGNem3JTqV73w7_42Qoz-iTER  or contact Colleen Endres, MDSC Teen & Adult Services Director
cendres@mdsc.org, 781-221-0024 x207