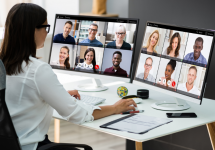 Webinar, March 30th, 2021, with The Federation for Children with Special Needs is collaborating with Easter Seals MA.
* Join in on a panel of Pre-ETS providers serving the Western Mass area including Easterseals, Viability, Stavros, and NEBA as well as MRC. Panelists will be answering these questions:
1. What are Pre-ETS?
2. What are the components of Pre-ETS?
3. Why is it important that students access these services?
4. What is the school's role in Pre-ETS?
5. What is MRC's role?
6. How do you connect to the services?
Register in advance for this meeting:
https://fcsn-org.zoom.us/meeting/register/tJMud-GorT0uHtYftPy-gSA5TbCAlWCIei0D or contact Kpenrod@Eastersealsma.org. After registering, you will receive a confirmation email containing information.