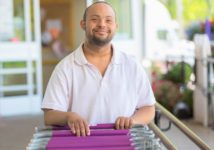 Webinar, March 9th, 2021, 7 p.m., with the Special Needs Transition Group of Wakefield, MA.
* Guest speaker will be John Wills, Manager of Employment Programs for Waltham's JF&CS Services for People with Disabilities & Mental Illness.
 * John will discuss employment and specific program at JF&CS that uses faded supports, and other models such as group supported work, long term 1:1, and using CBDS to gain experience.
* He will also cover how to make sure our child's IEP is working toward employment, and answer any questions you may have.
*  To join in the meeting please select the link below. 
https://umassmed.zoom.us/j/867334450?pwd=RmwxMU5VcXFpTVRWUE1wK3NXOUtxQT09
Password: 060235 (if requested)
* You may be asked to download the application. To view the presentation download the app.
* Within the Zoom you have the option to participate using the microphone and audio on your computer or with your phone.
Using the Zoom app on iPhone or Android
Meeting Id: 867334450
Password: 529453
* Or iPhone one-tap (US Toll): +16468769923,99870861709# or+13017158592,99870861709#
Or contact the Special Needs Transition Group at SPEDHousing.Transition@gmail.com.