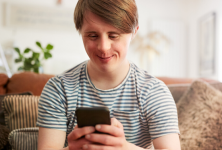 Online, January 27th, 2021, with the with the Lurie Center for Autism in Lexington, MA.  Throughout much of previous year, many services for autistic teenagers and adults have transitioned to a virtual format.
 *  This will be an open discussion of the unique opportunities the virtual space provides for authentic social connection, and skill development for individuals on the spectrum.
About the speakers: 
* Brett Mulder is Director of Teen and Adult Programs, MGH / Aspire
Instructor in Psychology, Harvard Medical School, and Psychologist in the MGH Department of Psychiatry.
* Andrew Harris is Assistant Program Manager, Teen and Adult Services
at MGH / Aspire. He designs curriculum for and working with children and teens with an autism spectrum disorder diagnosis, and runs teen and young adult groups.
* Jessica Pappagianopoulos is the Assistant Program Manager for Teen & Adult Services at MGH / Aspire.
Registration is required to www.massgeneral.org/children/autism/lurie-center/ and scroll all the way down to "workshops/events" or contact 781-860-1700.