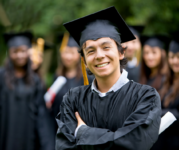 Webinar, October 8th, 2020, 1 p.m., with the Arc of Greater Haverhill-Newburyport. This webinar is part of the Transition Boot Camp Fall / Winter 2020 Webinar Series to help guide and prepare individuals, caregivers and professionals by providing information and resources for the transition into adulthood years for ages 14 – 22 and beyond. 
* This training will focus on:
the transition special education services which prepare youth for employment
independent living and further education
mechanisms to plan for services students may require when they exit special education as well as transition to the adult human service system.
*  Using case examples, parents and professionals will learn strategies that may help students receive important transition services mandated by special education laws.
*  Parents and professionals will also gain an understanding on Chapter 688, the federal law that helps plan for youth with disabilities after they leave school.
Presenter: Johanne Pino, Projector Coordinator, Massachusetts Advocates for Children (MAC)
To register or for more information contact  https://zoom.us/meeting/register/tJ0qcOCupjosGdEVpwZHt99fuefgHioWv_F-  or contact Andrea Morris:Andrea.Morris@TheArcofGHN.org or (978) 373-0552 x211