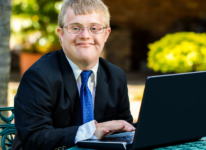 The LEND Boston Program is seeking an adult age 23+ with an intellectual, physical or developmental disability to take part in the LEND fellowship September 2020 through May 2021.
* LEND stands for Leadership Education in Neurodevelopmental Disabilities.
* The program is affiliated with Boston Children's Hospital and the Institute for Community Inclusion at the University of Massachusetts, Boston.
* LEND provides interdisciplinary training for a diverse group of fellows from disciplines including social work, psychology, developmental medicine, audiology, occupational therapy, nursing, public health, genetic counseling, child development, education and others.
* Fellows also include parents of children with disabilities, and self-advocates (people with disabilities who are finding ways to increase their independence and speak up for their goals).
* In the past, some self-advocates bring their own support person to help with travel and with processing and understanding the material.
* If selected, you will be required to attend in-person classes at Boston Children's Hospital on Fridays, 8:00 am to 4:00 pm.
* You will also need about 4 hours per week for reviewing materials, clinic observations, community visits, and community work.
* Some of this can take place on evenings or weekends, although you will need some weekday time to visit hospital clinics and community settings.
* LEND fellows also are eligible to receive a small stipend to support their attendance in the program. They also support fellows to attend a policy conference in Washington DC.
* LEND is in the process of accepting applications and conducting interviews, so please respond quickly if you are interested.
For more information visit www.lendboston.org/self-advocate.html or contact Lauren Berman at Lauren.Berman@childrens.harvard.edu for application materials and if you have questions.