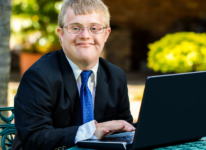 Virtual Event, July 16th & 17th, 2020, with Best Buddies International.  The aim of the the Best Buddies Leadership Conference (BBLC) is to inspire leaders to be Best Buddies advocates and to bring about social change in their communities. It unites Best Buddies leaders, volunteers, and community advocates from around the globe.
* Conference attendees will gain knowledge to effectively take action for a common cause while discovering the importance of their leadership, influence, and responsibilities.
* For the 2020 conference, Best Buddies will be offering a virtual conference experience so that worldwide leaders can gather, learn, and engage while safely participating in this incredible event.
* Using an interactive digital platform to engage attendees, this virtual conference will offer opportunities to learn from professional presenters, participate in small group discussions, engage with experts, and choose from a diverse variety of education sessions that will inform, inspire, and advance their role in the disability rights movement.
Voices of Inclusion Kickoff: July 16 @ 8:00 pm ET

Leadership Conference Training: July 17 @ 11:00 am – 6:00 pm ET

Speaker WOWcase: July 17 @ 7:00 pm ET

To register or for more information, visit www.bestbuddies.org/bblc/?fbclid=IwAR0xtWIslQjDHsb1Tv6lszZF9Z4hZjWzz1HwnaaHXfMArCx1eU4zajigK_4    or contact LeadershipConference@bestbuddies.org