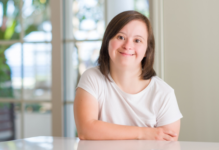 July 29th, 2020, with the Massachusetts' Down Syndrome Conferences' Self Advocate Advisory Council. For teens & adults with Down syndrome and friends ages 13+.
* Do you have questions about how to eat healthier?
* Join MDSC Self Advocate Advisory Council member Kate Bartlett to learn as she shares tips about what she has learned and answers your questions.
* End the event with a fun trivia game.
To register or for more information visit https://files.constantcontact.com/d4b65ba9001/03465190-5bed-4192-b4d7-f14353be9a90.pdf or contact Email Colleen at cendres@mdsc.org to register.