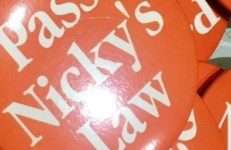 The Abuse Registry Bill Nicky's Law, "An act to protect individuals with intellectual and developmental disabilities from abuse", was voted for approval by The Massachusetts House of  Representatives on January 15th, 2020,
  The bill authorizes a registry to hold the names of employees who have committed acts of substantiated abuse which have resulted in serious physical injury or serious emotional injury for adults served by the Department of Developmental Services. The registry will be housed at the Disabled Persons Protection Commission (DPPC).
The bill now must go back to the Senate so it will get to the Governor and be signed into law.
To read the latest about Nicky's Law the heroes that have pushed for it, and their stories, visit the Arc of Massachusetts Nicky's Law page https://thearcofmass.org/post/breaking-nickys-law.