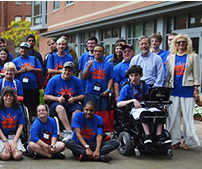 Bridgewater State University, Bridgewater, MA, Application Deadline – April 15th, 2020. The Youth Leadership Forum (YLF) is an overnight conference, June 23rd – 25th, 2020, for youth and young adults with disabilities held annually in Massachusetts and other states across the country. YLF participants build leadership skills and leave better prepared for future employment, higher education, and independent living.
* Delegates are youth with a disability who are between the ages of 16-22.
* Peer Leaders are young adults with a disability between the ages of 18-25.
 * YLF participants stay in the college dorms at Bridgewater State University to experience life in a college setting. They also participate in both small and large group discussions and workshops on such topics as:
self-advocacy & disability pride
assistive technology & independent living
employment skills & career exploration
higher education & legislative advocacy
the Disability Rights Movement
community participation.
 * Young people with disabilities can apply to be a YLF Delegate or Peer Leader. Applicants with diverse disabilities, identities, and backgrounds may apply.
For more information visit www.pyd.org/programs/youth-leadership-forum/  or contact 617-556-4075 x113 or ylf@pyd.org