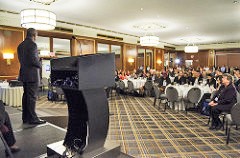 Marlborough, MA, June 11th, 2019. A statewide conference for DDS staff and providers, educators, individuals, and family members, as well as other state agency partners.
* Learn about promising practices, strategies and resources that you can use as we all work together to expand employment opportunities for individuals served by the Department of Developmental Services in Massachusetts.
* Hear from Jane Ryder, the DDS Commissioner and a keynote address by Liz Weintraub, Senior Advocacy Specialist for the Association of University Centers on Disability and the host of Tuesdays with Liz.
* Breakout sessions will provide you with an opportunity to learn more about best practices for supporting people to go to work, transportation, public benefits, models to support individuals with ASD, federal policy updates and more.
Fees apply, registration is required to http://employmentfirstma.org/conference/ or contact
** A limited number of scholarships are available for individuals and family members. Contact Berenise Reyes- Albino at Berenise.albino@umb.edu for information.