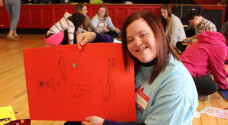 Newton, through Spring, 2019. Advocates in Motion is a Massachusetts Down Syndrome Congress Teen and Young Adult Program that provides inclusive, interactive events each month for teens and young adults 13 to 22 and their families. This year's theme -Together we CAN! Get out into the community, working as a team, and learning about the many ways to contribute and make the world a better place.
* Through June 3rd, 2018, one Sunday each month from 12:30-3:30 at the West Suburban YMCA in Newton. Each month includes a youth session with engaging activities related to our theme and a parent session with networking and a guest speaker covering a different transition-related topic.
Fees apply, registration is required to http://mdsc.kintera.org/AIM1718.
Scholarships are available; contact Colleen Endres at cendres@mdsc.orgto
Families that are unable to commit to the full program but would still like to join in on socials from time to time can sign up as an AIM Friend for $25.