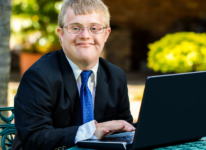 Boston, Application by December 15th, 2019, with a start date of February 2020.. The Down Syndrome Program at Boston Children's Hospital is currently seeking an individual with Down syndrome to serve as a Patient Liaison Intern for two half-day clinic sessions each week.
  * The Patient Liaison greets and escorts families, supports clinicians during clinic visits, and performs clerical duties in the clinic. The goal is to provide training to help other individuals with Down syndrome to develop these important job skills, and to provide further employment opportunities for individuals with Down syndrome.
  * In addition, there is a two-year training program – the Patient Liaison Internship –  to expand employment opportunities for individuals with Down syndrome. This is a two-year training position in which individuals with Down syndrome will work with the clinical team and current Patient Liaison to develop job skills in the clinic setting.
Job Responsibilities:
  Help set up rooms for clinician use
  Escort families to clinical rooms
  Share resource materials
  Play with patients and support families during their visits
  Assist program coordinator with clerical duties such as photocopying, faxing, mailing, filing, emailing, etc.
  Prepare and distribute patient materials to providers.
Job Details:
* Candidates must be over the age of 22 to apply.
** This is a two-year internship for training purposes, and will not go beyond two years.  It is a paid, part-time position.
* Job candidate requirement – for application and more details, contact Angela Lombardo, Down Syndrome Program Coordinator, Boston Children's Hospital, 300 Longwood Avenue Boston, MA,  857-218-4329 angela.lombardo@childrens.harvard.edu BEFORE December 15th, 2019.