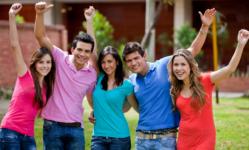 Brookline, through May 29th, 2019. Free. Link20 is a global social movement led by a network of young activists, with and without disabilities. The goals are to raise awareness on the right of people with disabilities to be fully included in our society and to strengthen young activists leadership skill, and influence in promoting inclusion and social justice.
RSVP to www.yachad.org/newengland/events/series/2311/link20-advocacy-group-spring-2019   or gilbertr@out.org or 617-209-6799 ext 103. 
New England Yachad is dedicated to enhancing the life opportunities of individuals with disabilities of all ages, ensuring their participation in the full spectrum of Jewish life. Yachad members participate in social and recreational activities each month. There are Yachad Chapters located throughout the United States, Canada and Israel. Yachad is part of the National Jewish Council for Disabilities.