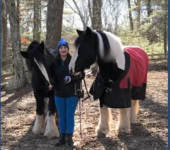 Sherborn, through November 21st, 2019.
Wildstar Wranglers provides a structured opportunity for 18- to 24-year-olds with an Autism Spectrum Disorder to prepare for future employment and engage in meaningful work in a safe, supportive,
supervised environment.
* Focus on developing crucial job skills that are transferable to any work setting:
•  Following directions and doing a thorough job
•  Getting work done on time, Accepting and giving feedback
•  Asking for and offering help
•  Communicating with employers and colleagues
•  Being a productive, respectful team member
•  Staying calm in stressful situations
* Daily tasks include horse care, barn chores.
For more information & to apply, visit www.HorseSenseAbility.org, or contact info@HorseSenseAbility.org or call 617-744-6774