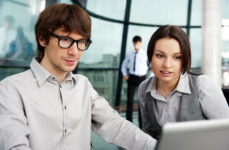 State Transportation Building in Boston, April 5th, 2019. The 2019 State Employment Career Fair is a chance for jobseekers with disabilities to learn about jobs within the Massachusetts state government. Please bring several copies of your updated resume and questions to ensure you get the most out of this experience.
* Meet Massachusetts state government recruitment and human resources representatives in an informative and engaging setting where you can explore a career field that interest you. There will be:
Opportunity for "face time" with employers
A chance to consider multiple industries, in one location, on the same day
Ability to ask questions
Opportunity to make a positive first impression by selling your relevant skills and experience to each employer
* Reasonable accommodation requests to: Rita DiNunzio at rita.dinunzio@dot.state.ma.us or 857-368-8738 by March 22, 2019.
To register or for more information visit www.eventbrite.com/e/2019-state-employment-career-fair-registration-53961435105 or contact Mod-events@mass.gov or call 617-727-7440, extension 27319.