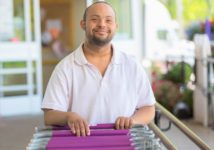 Framingham, MA, April 11th, 2019. To achieve a successful transition to adulthood, an individual with special need's transition plan must include many elements of adult living, including employment, vocational and post-secondary education, living/housing, independent living skills, recreation, leisure activities, social relationships, self-advocacy, health and safety, financial benefits and income planning.
* Speaker Attorney Annette Hines will discuss transition in a question, answer, and discussion session.
* This workshop is part of the A Full Life Ahead series offered by Massachusetts Families Organizing for Change (MFOFC) for parents and guardians of young adults with a disability. The series focuses on transition, employment, housing, friendships and other topics that will lead to interdependent, full lives.
* This event will have a live recording available on the Advocates Facebook page where you can watch anytime during and after the workshop.
* RSVP to www.advocates.org/events/full-life-ahead-ask-expert-attorney-annette-hines or contact Pam McKillop, Family Coordinator, (774) 279-7467 FamilyServices@Advocates.org.