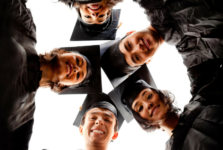 Concord-Carlisle High School Cafeteria, April 4th, 2019, 6-8:30 p.m. Free. This is an opportunity for students ages 12-22, family members, and professionals to connect with community organizations and agencies to learn more about the transition process. Representatives from state agencies and vendors will be available to discuss a range of topics, including vocational development/job preparation programs, community living options, and social/recreational programs. Over 25 Vendors will attend, including:
* Mass Rehab Commission (MRC)
* Minuteman Arc
* Department of Mental Health
* SNAP-Special Needs Arts Program
* Easter Seals
* NE Center for Independent Living
* You're With Us
* Autism Pathways
* Riverside Family Support
* DDS Autism
* Till Springboard
* Jewish Family & Children's Services
*Beneplan
*NU PATH *Developmental Disabilities Services
Sponsored by the CASE Collaborative, Concord-Carlisle, Acton-Boxborough, Littleton, and Maynard school districts.
For more information, visit www.littletonps.org/calendar/1944605/preparing-students-and-families-for-the-next-step-free-event or contact Kate Sullivan (978) 264-4700 x 3597 / CASE Collaborative – Deanne Cefalo (978) 202-1186.