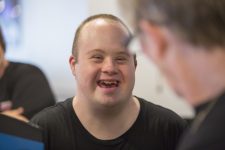 Stoughton, through December 19th, 2018. Wednesday Night Out is a social group for young adults that offers opportunities to build friendships while emphasizing independence and the acquisition of life skills. Participants' interests shape the program and activities chosen.
* Participants pay for outside activities.
* Scholarships available for those in need.
* Fees apply – Class code: SNFAYG01.
* For information including fees and to register, contact inclusion@jccgb.org or 617-558-6507.