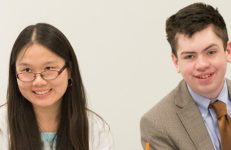 Watertown, January 7 – May 20, 2017. The Pre-Employment Program For Young Adults Who Are Blind is for young adults ages 15 to 22. Participating students will leave with an action plan including follow-up activities, job leads to pursue and a career portfolio with a resume, cover letter and references to help land an internship, summer employment, college work-study job  or get a jump start on an early career experience.
This program means to offer real-life perspective from successful leading corporations, such as 2016 participants Tufts Health Plan, Spaulding Rehabilitation Network, WinterWyman, Wells Fargo and Harvard Pilgrim Health Care. 
Designed in collaboration with Dr. Karen Wolffe, a renowned international expert on career counseling for people who are blind or visually impaired, and led by Perkins educators Kate Katulak and Jessica Erlich
Applicable to internships, summer employment, college work-study jobs and careers
This workshop features:
Resume writing and online job search skills.

Mock job interviews, with a focus on social skills and disclosing a disability to a potential employer.

Employed role models who are blind.

Networking with hiring professionals and disability experts from leading corporations.
For any questions contact 617-972-7812 or Patrick.Ryan@Perkins.org or
to register visit www.perkins.org/get-involved/events/pre-employment-program-for-young-adults-who-are-blind?utm_campaign=pre-employment%20program2017&utm_source=outreach&utm_medium=email